OUR VISION AND MISSION STATEMENT
Dear Parents / Guardians and Pupils
Thank you for visiting our school website. Our site provides a flavour of the many opportunities available to the children at Windmill both during and after school. Our vision at Windmill is to have a child centred approach inclusive of all religions and ethnic and cultural backgrounds. Here at Windmill we offer a broad and balanced curriculum in a happy, caring and friendly environment. Our aim is to ensure that all children who attend our school have the skills and knowledge required to reach their full potential.
If you would like any additional information about our school then please to contact the school directly.
Mrs S. Ferguson
Principal
'A Journey Together............Learning For Life'
Digital Admissions for September 2020 intake
If your child is starting pre-school or primary school in September 2020, you can apply online between Tuesday 7 January 2020 and 12.00 noon on Thursday 30 January 2020. Please note that places are not allocated on a first come, first served basis and applications will only be considered after the closing date. Further information is available on the EA website under the Admissions section at - https://www.eani.org.uk/parents/admissions
eSafety Links
The School is not responsible for the content of external Internet sites. We recommend adult supervision for all links to external sites.
Latest Photographs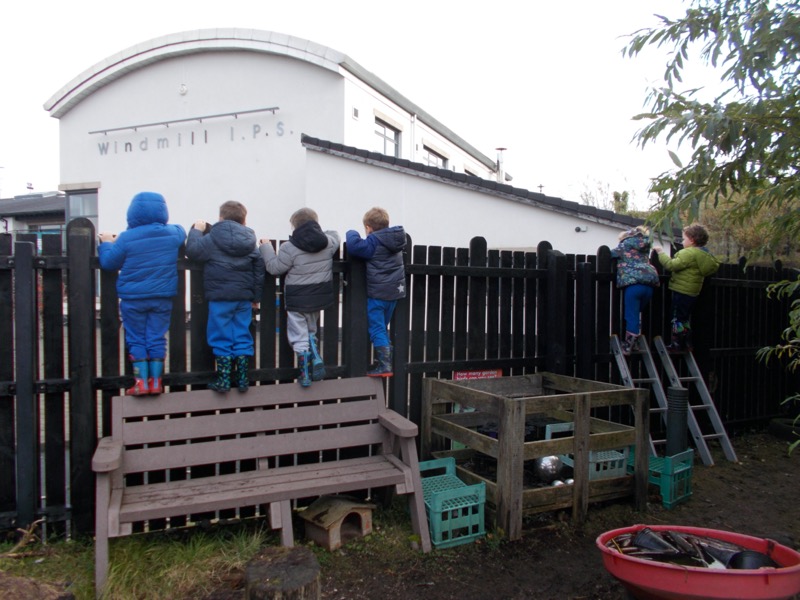 We started off having snack in a small group at settling in time.
We got lovely new wooden tables and benches.
Then we moved to a much bigger group once all 27 children were together.
Dinner is a lovely calm time with a small group.
The Windmill Cafe is proving very popular.
We have battery operated lights in jam jars on the tables.
We have fairy lights and tea lights to make the area calm.
Upcoming Events...
Thursday, 26th November 2020
After school transfer class for those wishing to undertake GL/AQE tests in Jan 21(3.00pm-4.30pm- Children attending must bring a small snack with them.)
Tuesday, 1st December 2020
After school transfer class for those wishing to undertake GL/AQE tests in Jan21 (3.00pm-4.45pm- Children attending must bring a small snack with them)
Wednesday, 2nd December 2020
IFA Football Coach working with Primary 4 to Primary 7 pupils (approximately 45min slots throughout the day. Being held up at Loughview.)
Thursday, 3rd December 2020
After school transfer class for those wishing to undertake GL/AQE tests in Jan 21(3.00pm-4.30pm- Children attending must bring a small snack with them.)
Friday, 4th December 2020
Christmas Dinner: (School closes at 1:30pm for P1-P4 & older siblings, 1:45pm for P5-P7 and buses and taxis.)
Tuesday, 8th December 2020
After school transfer class for those wishing to undertake GL/AQE tests in Jan21 (3.00pm-4.45pm- Children attending must bring a small snack with them)
Wednesday, 9th December 2020
IFA Football Coach working with Primary 4 to Primary 7 pupils (approximately 45min slots throughout the day. Being held up at Loughview.)
Windmill Integrated Primary School, 30 Old Eglish Rd, Dungannon, County Tyrone BT71 7BE
Phone: 02887 727277

WEBSITE BY: SCHOOLWEBDESIGN.NET | Login