OUR VISION AND MISSION STATEMENT
Dear Parents / Guardians and Pupils
Thank you for visiting our school website. Our site provides a flavour of the many opportunities available to the children at Windmill both during and after school. Our vision at Windmill is to have a child centred approach inclusive of all religions and ethnic and cultural backgrounds. Here at Windmill we offer a broad and balanced curriculum in a happy, caring and friendly environment. Our aim is to ensure that all children who attend our school have the skills and knowledge required to reach their full potential.
If you would like any additional information about our school then please to contact the school directly.
Mrs S. Ferguson
Principal
'A Journey Together............Learning For Life'
Notices
Road Closure
As you may already be aware Kier Construction have been instructed by SGN Natural Gas to complete a programme of gas main pipeline laying in and around the Dungannon Area.
We have been notified that work is due to commence on: Old Eglish Road & Washingford Row from the junction of Milltown Street to Hollyfields. The work will be starting on: Monday 10th December 18 and will continue for 7 Weeks ( work will cease for the Christmas Holidays on 23/12/18 and recommence 02/01/19) Works are expected to be completed 27/01/19.
This will require a lane closure on: Old Eglish Road & Washingford Row with traffic control, and the use of traffic lights (please see attached document). As the works progress the traffic control will be amended accordingly along this route until works have been completed.
Applications for Nursery and Primary 1 September 2019 intake
Application forms for both Nursery and Primary will now be completed online. The Education Authority 'Portal' to do this will be open from Wednesday 2nd January 2019 at 10.00am until 12 midnight on Thursday 31st January 2019. A copy of your child's birth certificate and Windmill's Pre-Enrolment form will still have to be sent into school. Further details will be provided during the Open Afternoon.
Open Afternoon
Open Afternoon for prospective parents and children will be taking place on Monday 17th December 2018 from 2.15-4.15pm.
eSafety Links
The School is not responsible for the content of external Internet sites. We recommend adult supervision for all links to external sites.
Latest Photographs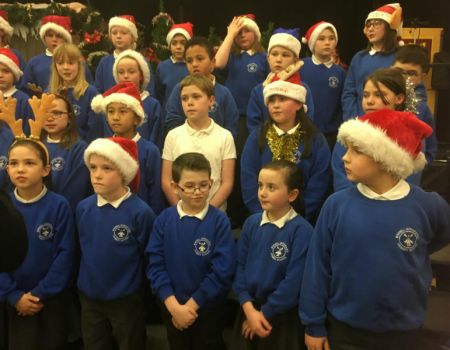 Upcoming Events...
Wednesday, 12th December 2018
Piano lessons
P5-P7 pupils attending a technology workshop at ICD: 3-4.30pm ( Children to be collected from ICD at 4.30pm sharp.)
Thursday, 13th December 2018
P1 Christmas Assembly (All parents, friends and family are warmly invited to attend at 9.30am)
Football skills with IFA coach Miss Judith Reid (P1-P4)
Windmill's School Choir singing at The Junction, Dungannon (1.30pm)
Forest Schools with Nursery (at Hill of the O'Neill - 10am)
P5EV -Swimming (10.45am-12.15pm)
P6 swimming (11.45am-12.15pm)
Friday, 14th December 2018
French lessons (whole school)
Gaelic Football
Boys' and Girls' Hockey Tournament at Meadowbank Sports Arena, Magherafelt
Primary 1 Shared Education programme with Bush Primary to Speedwell (9.00am -2.00pm)
Monday, 17th December 2018
Piano lessons
Mandarin Chinese for P5-P7 pupils (3-4pm)
Open Afternoon for Prospective Nursery and Primary 1 pupils and parents (2.15-4.15pm Pupil Council will be assisting)
Tuesday, 18th December 2018
Violin lessons
French lessons (whole school)
Wednesday, 19th December 2018
Piano lessons
Thursday, 20th December 2018
Nursery closes at 1.45pm for Christmas Holidays
Football skills with IFA coach Miss Judith Reid (P1-P4)
"Christmas Disco" & Raffle ((P5, P6, P7) -7pm- 8.30pm)
Christmas parties- Nursery 9.00-10.00am, P1 & P2 10.15-11.30am, P3 & P4 1.30-2.45pm
Forest Schools with Nursery (at Hill of the O'Neill - 10am)
Friday, 21st December 2018
School closes at 11.45am for P1-P3 & older siblings, 12 noon for P4-P7 for Christmas Holidays
Non- Uniform Day (All children to pay £1 for privilege)
French lessons (whole school)
Saturday, 22nd December 2018
Christmas Holidays (School Closed)
Sunday, 23rd December 2018
Christmas Holidays (School Closed)
Monday, 24th December 2018
Christmas Holidays (School Closed)
Tuesday, 25th December 2018
Christmas Holidays (School Closed)
French lessons (whole school)
Windmill Integrated Primary School, 30 Old Eglish Rd, Dungannon, County Tyrone BT71 7BE
Phone: 02887 727277

WEBSITE BY: SCHOOLWEBDESIGN.NET | Login